History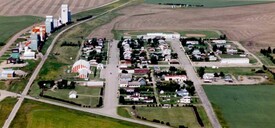 HISTORY
The Hussar area was original part of the Treaty 7 lands, specifically the Siksika Nation (now located south of Gleichen).  The area was first settled in the early 1900's, mostly by ranchers, and by 1910 farmers had begun to arrive. 
Hussar was named by a group of German settlers, mostly officers in the German Army, who bought land in the area in 1910.  However, when World War I broke out these settlers left to join the German war effort but were held in Prison of War Camps until the war ended.  None of these settlers returned.
The C.P.R. line was built in 1911 and trains first came through Hussar shortly after.  With the construction of the line the businesses in Hussar also began to pop up.  Grocery stores, hardware stores, machinery dealership, and of course grain elevators.  The rail line has since been removed, but Hussar continues to remember its rich history when it once had six elevators (one of which is privately owned and still stands).
Hussar, a village in southern Alberta within Wheatland County, is located on Highway 561, approximately 93 km (70 minutes) east of Calgary on the Trans-Canada Highway.
In 1913, the Canadian Pacific Railway (CPR) established a station in the area that is now Hussar. The community of Hussar grew up around the station and was incorporated as a municipality on April 20, 1928. According to the two past Federal Censuses, the population of Hussar was 176 in 2011 and 190 in 2016.